Bibliography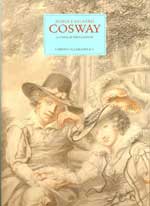 Books
Tino Gipponi (a cura di) "Maria e Richard Cosway", Umberto Allemandi, Torino, 1998
E. Cazzulani e A. Stroppa "Maria Hadfield Cosway: biografia, diari e scritti della fondatrice del Collegio delle Dame Inglesi in Lodi, L'Immagine, Lodi, 1989
E. Cazzulani e A. Stroppa "Maria Hadfield Cosway. La donna e l'educatrice", L'Immagine, Lodi, 1997
G.C. Williamson "Richard Cosway R.A. and his wife and pupils, miniaturist of the Eighteenth Century, Londra, 1897
G.C. Williamson "Richard Cosway" R.A., Londra, 1905
Carol Burnell, "Divided Affections: The Extraordinary Life of Maria Cosway: Celebrity Artist and Thomas Jefferson's Impossible Love", Published by Column House, Switzerland

G. Barnett "Richard and Maria Cosway: a biography, Westcountry Books, Tiverton, 1995
Passando da Waterloo. Il viaggio di Maria Cosway da Lodi a Londra nelle lettere inedite (1815), in Lingua, cultura e testo, Miscellanea di studi francesi in onore di Sergio Cigada, a cura di Enrica Galazzi e Giuseppe Bernardelli, Milano, Vita e Pensiero, 2003, vol. II, t. 2, (pp. 743-754)

(a cura di M. Faraoni) "Passione è cultura" Scritti per Tino Gipponi, Electa, Milano, 2007
All'interno del volume:
pag. 20 Quatre portraits de Pascal Paoli par des artistes britanniques, F. Beretti;
pag. 66: Una conoscenza ritrovata: lettere di Francesco Melzi d'Eril a Maria Hadfield Cosway, Luisa Dodi;
pag. 97: La sala della musica nel Collegio delle fanciulle a Lodi, Silvana Garufi; pag. 110: "La Decima Musa, alias the Magnetic Muse": the Anglo-Italian artist and educationist Maria Cosway", Stephen Lloyd;
pag. 138 "Pour remettre a madame Cosway" Di un breve carteggio su un desiderato gesso del busto canoviano del cardinal Fesch, Mario Marubbi.
Articles
A. Stroppa "Mary Hadfield Cosway", in Il Cittadino, 30 agosto 1997
E. Cazzulani "Maria Cosway, questa sconosciuta" in Bollettino della Banca Popolare di Lodi, n°.1, gen.-apr. 1990, p. 48-49
Web pages
Per celebrare il primo centenario (1904-2004) della fondazione del Lyceum Club Internazionale, Palazzo Cattaneo ospita a Cremona "Omaggio a Maria Cosway"
Omaggio a Maria Cosway, Cremona
Thomas Jefferson's Engraving of Maria Cosway
Letter of Maria Cosway to Jefferson London 29 of April [1788]
Catholic Encyclopedia on CD-ROM
The Letters of Thomas Jefferson: 1743-1826 "A SON OF NATURE"
Film "Jefferson in Paris"
Jefferson in Paris 1995/France, 139 Minutes
Da Wikipedia, l'enciclopedia libera
Two Sonata Duets with Violin Obbligato for Piano or Harpsichord Four-Hands
Dialogo scenico dalle lettere di Maria Cosway e Thomas Jefferson.
Interpreti: Vanda Bruttomesso, Carlo Rivolta. All'arpa Francesca Perotti ...
"L'EDUCAZIONE FEMMINILE TRA PARIGI E MILANO"
Thesis projects
Antonella Provetti "Donne religiose dell'Ottocento: la vita di Elena Solera" anno acc. 1997/98, Università degli Studi di Milano
Paola Rescalli "Il Collegio di Maria Cosway a Lodi dalla fondazione alle Dame Inglesi", anno acc. 1996/97, Università degli Studi di Milano


Fondazione Maria Cosway Via Paolo Gorini, 6 26900 Lodi C.F. 84511920153